Post by The Legion on Oct 26, 2017 9:33:48 GMT -5
A trio of typical Terran housecats from present-day America who ended up on Whazzit. They share a mind-bond-THING that is a sort of collective hive mind? I don't know, don't ask me how they work, I just write them.
They're cats, do you really think they tell me this stuff?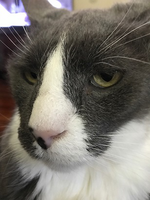 Alabaster - aka Boo, Boolah, Lunchbox, His Furry Magnificence, The Chubb, Gargoyle Cat
Font color: #696969
A domestic short hair cat, with classic tuxedo markings in charcoal gray and white. Elder statesman of The Legion, he has a noble bearing for all that he is well into his twilight years. He has the classic feline knack for training his companions to do his will without noticing it, giving him a reputation for abilities that he may or may not actually posess. His posture and gait are pantheric - head low, shoulders raised, tail extended - rather than the more relaxed movement of a housecat.
Tinker - aka Tink, Tinkerbell, Tinker-B, Tinker Toy, Baby Cat
Font color: #f49801
Domestic short haired orange tabby cat with white markings that match Alabaster almost exactly. On the chubby side, but daintily built all the same. Sweet natured with a ready purr, she loves to snuggle - though only when sitting. Being carried is Not Done. Has a nervous disposition and purrs to herself when startled. Oral fixation - will groom anything and anyone.
Dottie Ol' Mumford - aka Mumford, Kitten, Dottie
Font color: #ffffff
Long haired white cat with brown and black tabby markings on tail, ears, and splotched in a few other spots. Absolutely a kitten in manner, though he is finally reaching full growth and quite rivals Alabaster for size. Has a dominant streak that gets him in trouble with his older mind-siblings, who are more than capable of setting him in his place but don't want to make the effort. Mischievous, energetic, carefree, and with a youth's typical sense of immortality.
Other Foo:
Any bonds with Shinies attach to all three due to the hive mind dealie. Shinies may or may not have favorites among the three. The Legion certainly will have individual favorites.
Also, these guys totally are CATS. Everyday household cats. With all the powers that we swear our furry family members have, if they feel like it. Because cats. Who knows what the PIF did or what is native cat power, they won't say.
Uhm, right, talking. They have a broad-spectrum telepathic/telempathic/insert-other-mind-sharing-buzzword-here link to each other. They can communicate with great effect and precision with each other, and utilize each other's senses when desired. They CAN use this ability to also telepathically communicate with others. They don't consistently do so, though; it entirely depends on their mood and the audience. The rest of the world may also be treated to meows, yowls, hisses, snarls, and so on - which may or may not have anything to do with the actual thoughts of the cats. Because they are cats.